JAZZTOPIA International Jazz + Dance Festival

End of grade course project. JAZZTOPIA is a 3 day jazz and Dance festival, the system design is created around the concept of the dancing body and the feeling of music trough it, and how it inspires the act of art. The students had to create the complete festival from its root's concepts up to all the complete system design. 
The festival has 4 graphic stages, 3 of them have a similar style. This is part one, where the student shows the system, and its possibilities. This stage has the main graphic pieces, the brochures, and all the programatic information for the festival.
 
University proyect presented in Gabriele, Graphic Design III, 2014, for the Graphic Design grade course of the
University of Buenos Aires, FADU - UBA, Argentina.
 
-----
 
JAZZTOPIA Festival de Jazz + Danza

Trabajo de fin de carrera, festival de 3 días con una temática artistica elegida. En este caso es un festival de Jazz y Danza. sus ejes son la forma del cuerpo humano, inspirada en la danza y en la música. Se crea el festival desde el concepto del mismo, hasta toda su identidad gráfica.
JAZZTOPIA concepto: 
"El Festival Internacional de Jazz y Danza, JAZZTOPIA, es un festival que engloba a la ciudad de Buenos Aires en Jazz, y en esta edicón de danza también, el festival interviene en la agenda cultural de la ciudad al tener locaciones itinerantes. En cada edición busca un segundo integrante para su panorama músical, en este caso la unión es Jazz + Danza." 
El festival cuenta con 4 etapas, 3 de las cuales poseen gráfica complementaria. Esta es la etapa 1 en donde el alumno muestra el sistema, y la posibilidad de ampliarlo. Esta etapa cuenta con las piezas principales, el desplegable informativo, la cartelera informática y piezas de merchandising varias para complementar el festival.

Proyecto universitario presentado en la cátedra Gabriele, de Diseño Gráfico III, 2014, para la carrera de Diseño Gráfico,
Universidad de Buenos Aires, FADU - UBA, Argentina.
 
-----
ENG// Six-fold double sided program, informational brochure.
SPA// Desplegable programático, doble fax, de seis dobleces.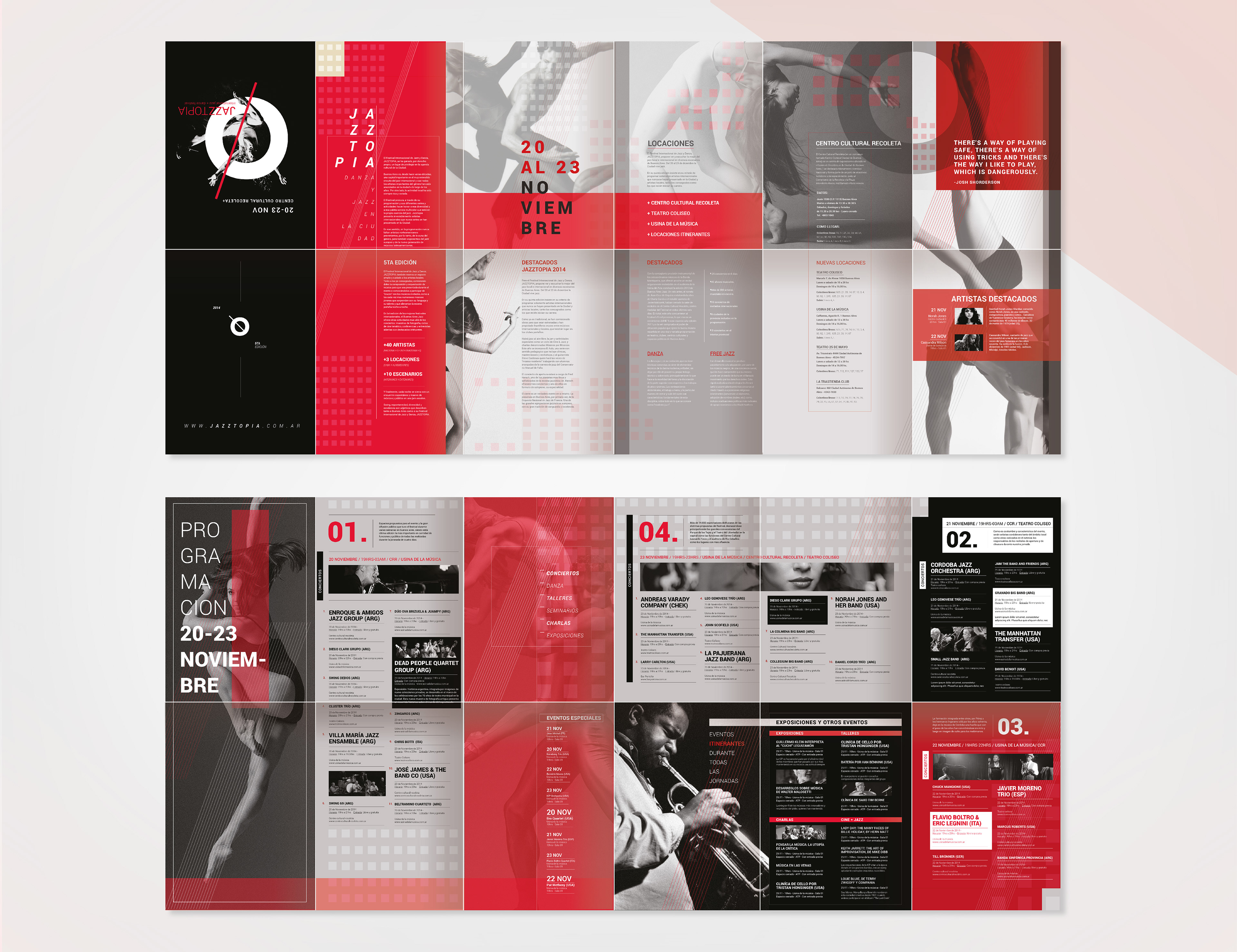 ENG 
// Festival program poster, 35 x 90 cm. Printed in 4 inks
SPA 
// Poster programático, a cuatro tintas, 35 x 90 cm.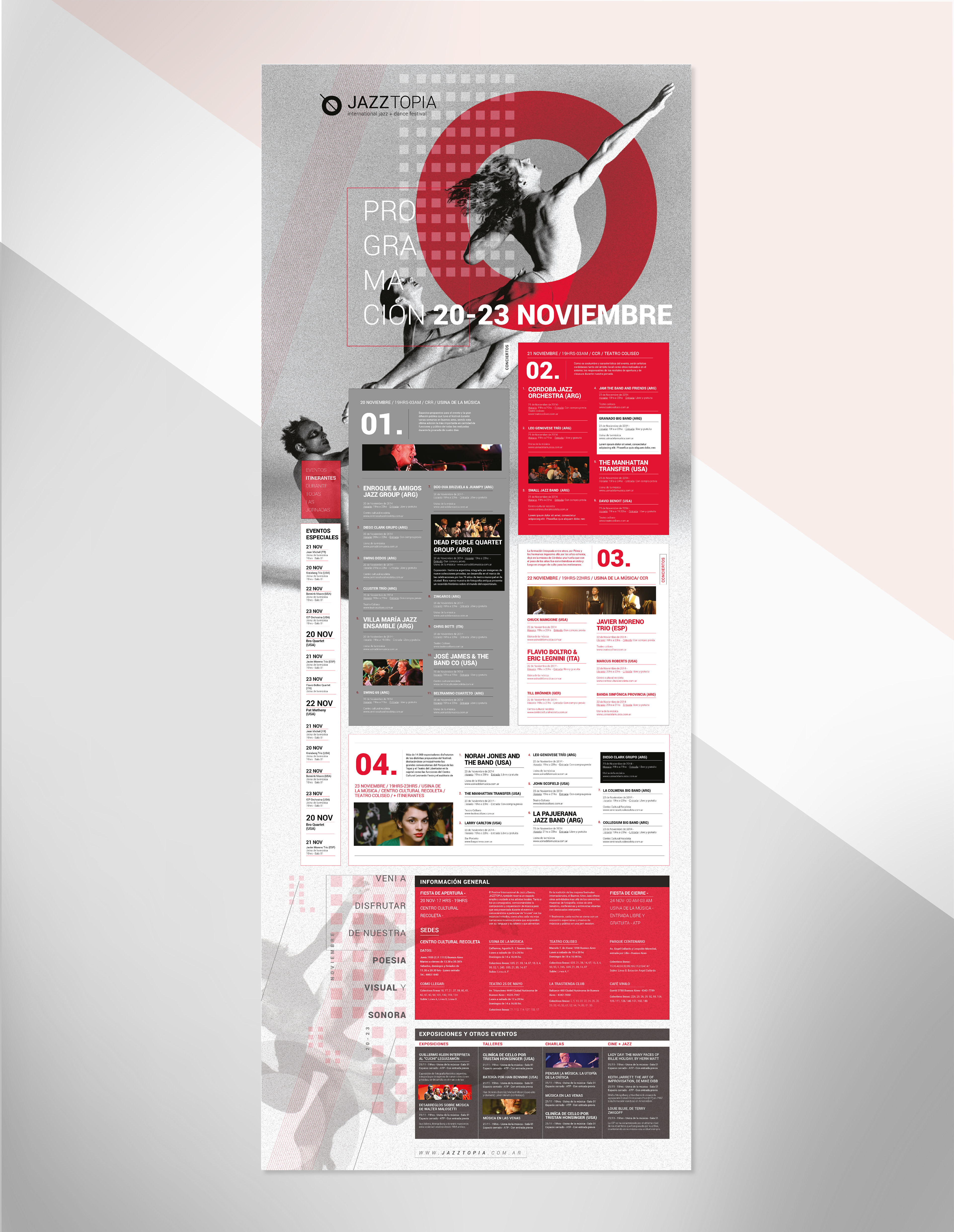 ENG // Street poster and billboard.
SPA // Afiche a calle y MECA institucional.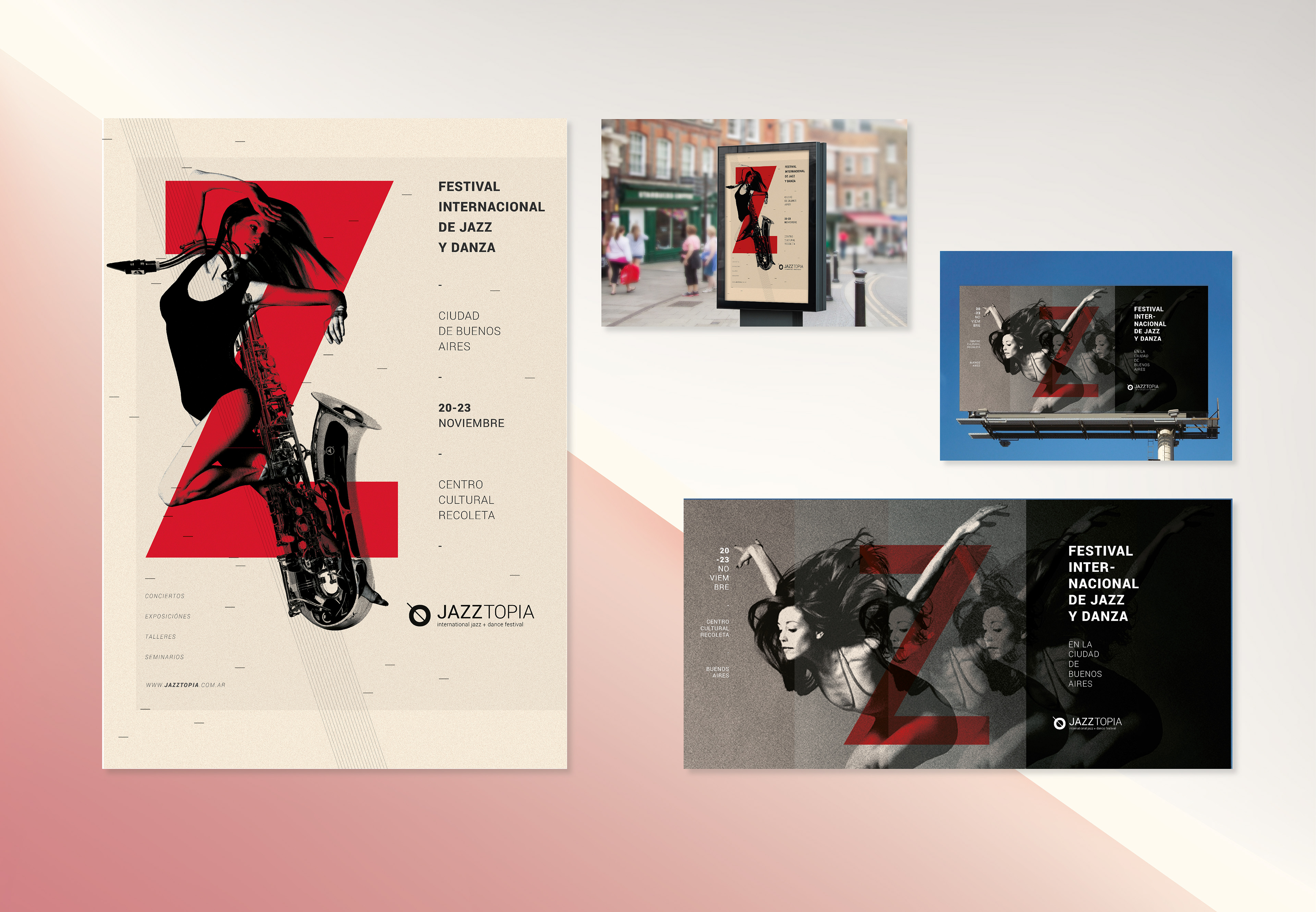 ENG// Merchandising, T-shirts, mugs and totebag.
SPA// Merchandising, remeras, tazas y bolsos.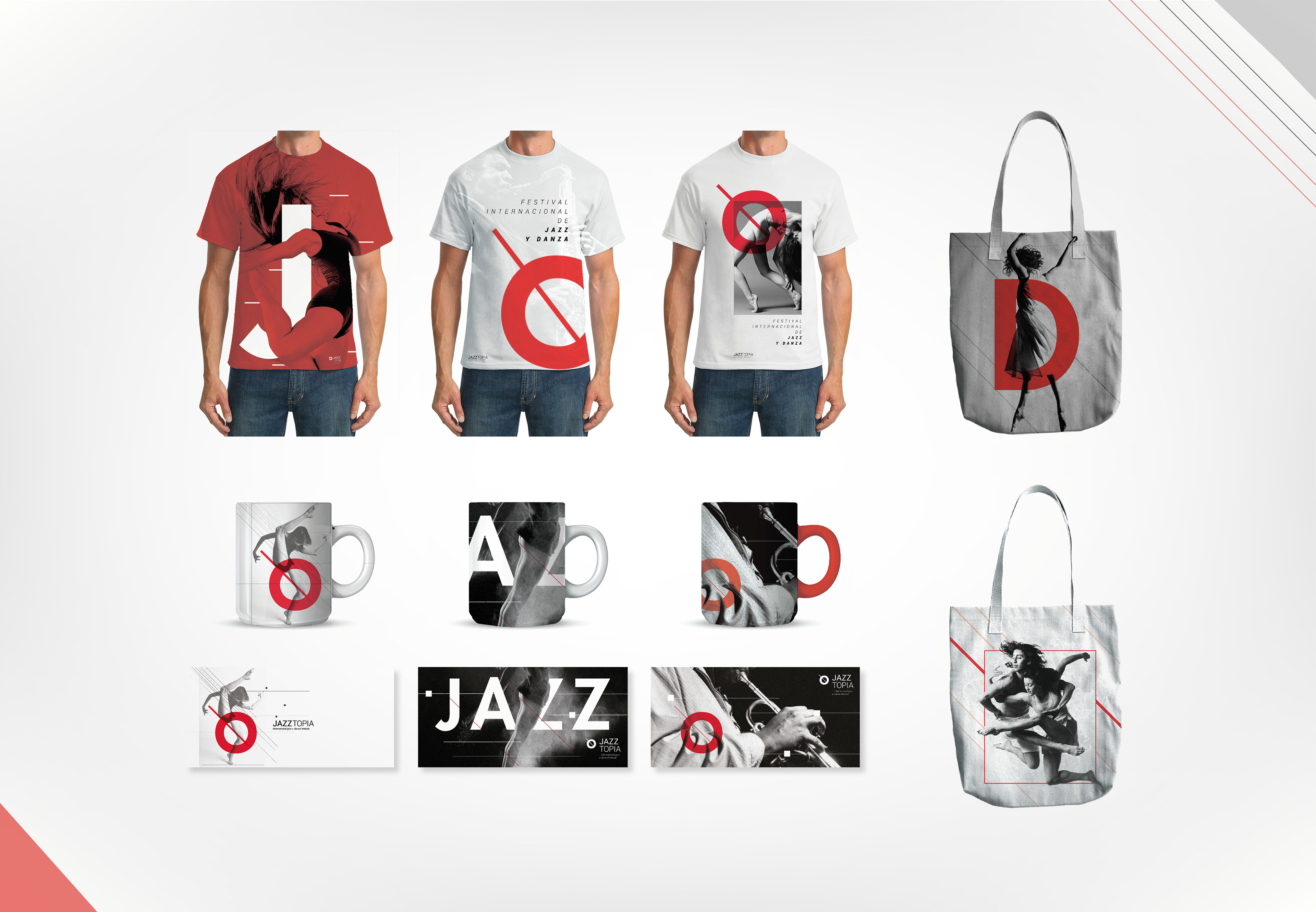 ENG// Stationery, flyer, postcards, tickets and access credentials.
SPA// Papelería, flyers, postales, entradas y credenciales de acceso.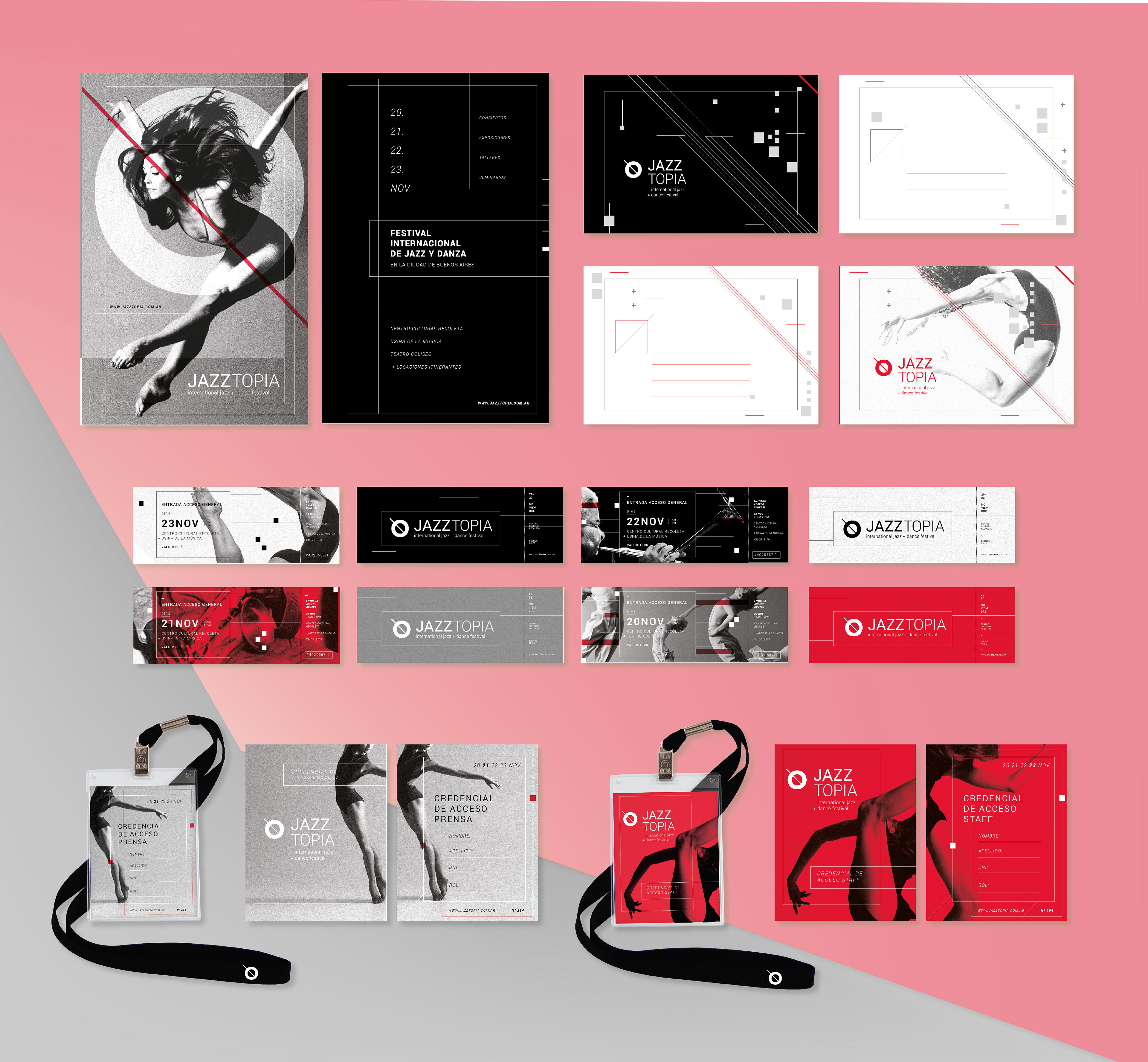 ENG// Display of the chosen place for the festival, alongside the graphics and banners created for it.
SPA// Arquigrafía en el predio elegido, banners y otros displays de gráfica.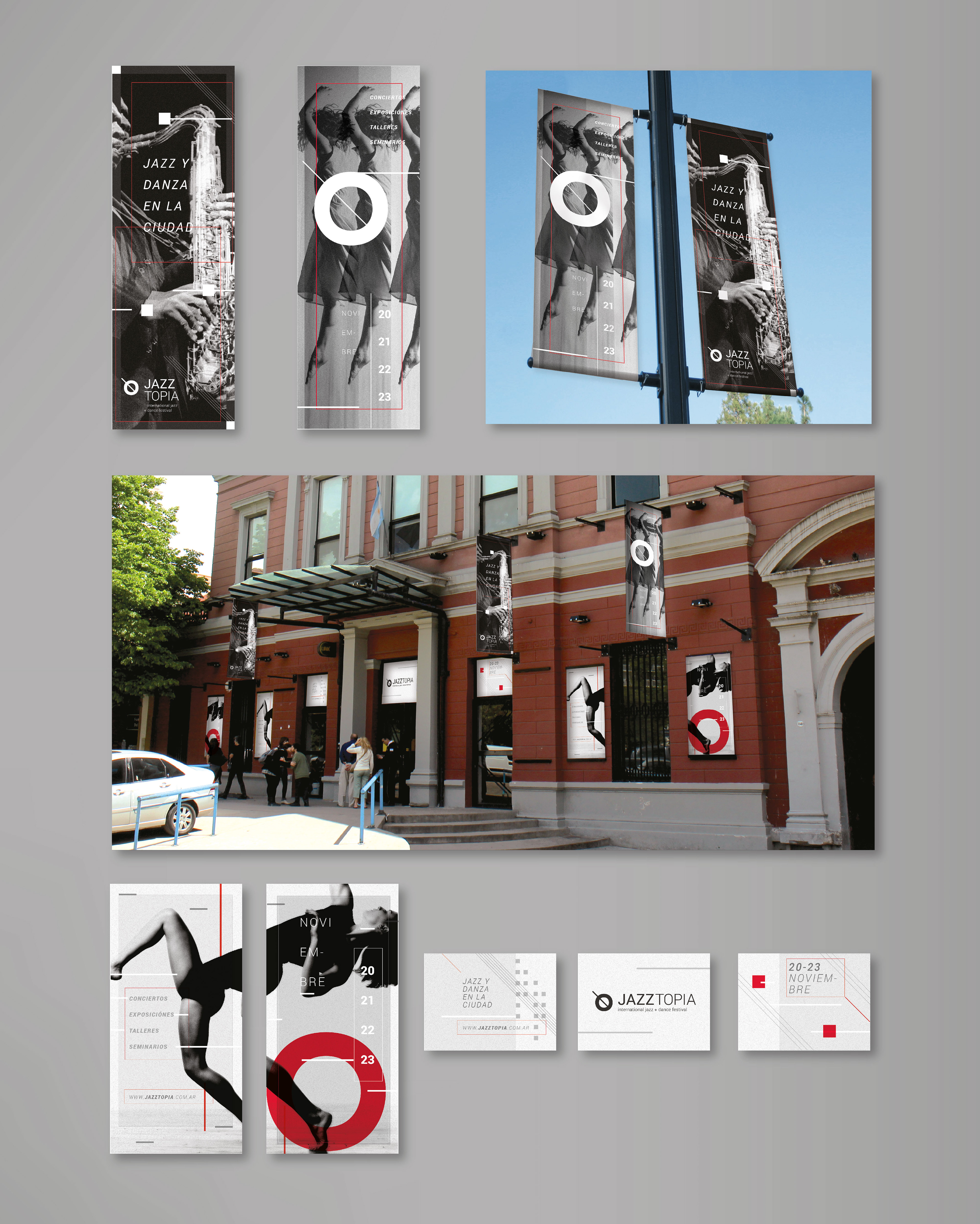 ENG// Institutional web, and app design.
SPA// Diseño de web institucional y aplicaciones para dispositivos móviles.